Staying in your own lane is not conducive for getting trail on the ground.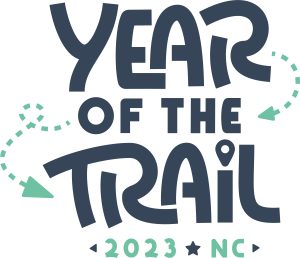 With over two hundred miles of trail on the ground in Burke County and many more miles planned, the nonprofits, agencies and local governments that are responsible for our public trails have learned that crossing lanes to collaborate helps to get trail on the ground faster.
As Beth Heile started talking to local governments and trail nonprofits about co-location and intersecting with the Burke River Trail, she knew others were having the same separate conversations regarding different trail alignments. To make sure everyone in the county was on the same page knowing what is coming down the pike, Heile organized a Burke County Trails Summit for the people planning, building, and overseeing trails.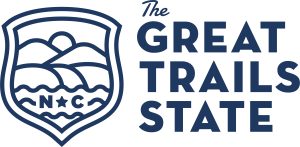 The morning meeting was a chance to network, share trail timelines, talk strategy, learn from each other and the NC State Trails staff. Attendees included those responsible for 3 of the 4 State Trails in Burke County (Fonta Flora State Trail, Overmountain Victory State Trail, Wilderness Gateway State Trail), the 2 State Parks (South Mountains State Park, Lake James State Park), the 2 large multihundred-acre parks (Oak Hill Park, Valdese Lakeside Park), a regional trail (Burke River Trail), and municipal greenways (Morganton and Valdese).
Here are a few examples of how trail partners are working together:
1) Canal Bridge – This bridge on NC-126 is home to Fonta Flora State Trail, Overmountain Victory State Trail, and a key connection for Lake James State Park properties. The bridge is in Burke County's jurisdiction and controlled by NCDOT. The angle of the bridge and speed limit make it unsafe for hikers and bikers. To remedy that, all these groups are working together on a new system that includes a lane shift and sidewalk.
2) Rocky Ford Access – This parking lot is a trailhead for Fonta Flora State Trail, Burke River Trail, Overmountain Victory State Trail, the Morganton Greenway, and Foothills Conservancy Mountain Bike trails. All groups involved are looking at how this gravel lot could include restrooms, picnic tables, and a kayak launch for a better user experience.
3) Wilderness Gateway State Trail – Though mostly a backcountry trail connecting Baker's Mountain to South Mountains to Chimney Rock, Wilderness Gateway does meander to the Burke River Trail at Valdese Lakeside Park and at Henry River Mill Village.
Before you attend the ribbon cutting for a new trail, a lot of work has taken place behind the scenes. Completed elements include a vision for the trail, buy-in and support from the community and local government, a formal study to see if the route is feasible for a longer trail, funding, willing landowners to sign legal agreements, surveys, design, plus contractors and/or volunteers.
With all these dynamics, trail partners being willing to share success stories of landowners welcoming trail onto their property, the name a great contractor that will allow volunteers workers to help save money, or a new funding source is critical.
With Burke County Representative Hugh Blackwell being the primary sponsor of the 2023 NC Year of the Trail bill, it seems only fitting these partners are working to get more trail on the ground, more groundbreakings and ribbon cuttings and more trail events than any other county in 2023.
If you want to get involved with trails, search out any of these nonprofit organizations for volunteer opportunities: Burke River Trail Association, Foothills Conservancy of NC, Friends of Fonta Flora State Trail, and Friends of the Valdese Rec.
Pictured (l-r, starting with front row)
Linda Lindsey (OVNCST-Friends), Bryant Lindsey (OVNCST-Friends), Starli McDowell (OVNCST-Friends), Jeffrey Allison (National Park Service), Smith Raynor (NC State Trails), Kat Deutsch (NC State Trails), Stephen Fox (City of Morganton)
Shane Prisby (Foothills Conservancy of NC), Amanda Finn (Friends of Fonta Flora State Trail), Nora Coffey (Lake James State Park), Bryan Fish (City of Morganton), Rob Winkler (City of Morganton), David Andersen (Town of Valdese)
Sarah Chabaane (Burke County), Bradley Kirkley (Burke County), Mary Griffin (South Mountains State Park), Lynette Hill (Carolina Land and Lakes), Melissa Patton (Carolina Land and Lakes), Alan Glines (Burke County), Beth Heile (Burke River Trail Association, Friends of the Valdese Rec)